About this room
This room is like walking in a picture perfect moment with no turning back.  The large windows frame a gorgeous view of the rolling hills with a background of the beautiful Smoky Mountains. Chimney Tops has a regal Victorian feel. It offers a grand Plush king size bed triple sheeted and piled high with fluffy pillows.  The colors of this room show off the elegant grandeur of the mountains. It has a comfortably sized private bathroom with a standard shower/tub combination and a window over looking some of the inns farming and herb gardens. If you are the professional looking to get away but still need you computer at times then you can enjoy the convenience of in-room WIFI and with the blinds open you can still enjoy the mountain scenery. Seeing as this room is touched with some of the most beautiful photographs of the "Chimneys" it is perfect for the hiking type.
*the room has been redecorated, new room photos to come*
Where the name came from.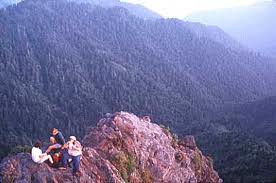 Although only two miles in length, the Great Smoky Mountains National Park trail to Chimney Tops requires strength and caution. Nevertheless, due to the excellent views available from this trail, as well as abundant wildflowers, streams and large trees, many feel a hike up to "the chimneys" is well worth both effort and risk. By this logic, Chimney Tops trail has become one of the Great Smoky Mountain National Park's most popular trails. Rhododendron is abundant in the Great Smoky Mountains National Park and along Chimney Tops trail is no exception. Also common are a variety of wildflowers. In Spring, you can find Trillium and Hepatica. In Summer, Joe-Pye weed, Bee-balm, and Jewelweed can be found. Violets, Toothworts, and Foamflowers also grow nearby. On the trail to the Chimneys people rave about the yellow buckeye trees due to the age of these trees, their unusual leaf structure and the flowers which appear in May. A trek to Chimney Tops will make you understand why it is so popular.
Room Amenities
King bed
Flat Screen Cable TV
Hair Dryer
Iron & Ironing Board
Plush Linens
Ceiling Fan
Mountain View
What's Included
Daily Housekeeping
Free Parking
Laurel Falls
Standard Queen Room
Second Floor
Queen Size Bed
Sleep 2
Private Bath
Mountain View