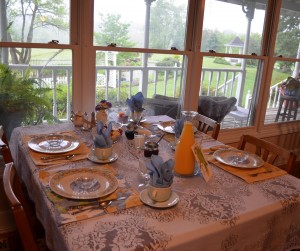 [dropcap2]R[/dropcap2]emember in Grandma's house when the kitchen was the favorite room? That's the way guests feel about the Blue Mountain Mist kitchen. Both doors are left wide open and many nights the kitchen becomes a favorite gathering spot as guests enjoy the homemade pie or cake prepared that day.
Each morning the family-style breakfasts are served in the lace-filled dining room which looks out over the valleys and layered hills. The big Tennessee breakfast starts with the breakfast bell being rang at 9:00 am once everyone has found there way to a seat, one of the Innkeepers will say greeting and bless the food.  Each table will  have  fresh-cut fruit with a side of Norman's own special topping recipe. What follows typically includes the traditional mountain-high dishes of eggs, biscuits, sawmill gravy, sausage, bacon and grits, or Sarah's stuffed French toast, 3-cheese-and-ham stromboli, Norman's sausage and egg quiche made with Sarah's biscuits, pumpkin pancakes, or any number of surprises. Whatever the menu for the morning, you won't start off your day hungry
After a day's worth of adventure in the mountains hiking, golfing, or visiting quaint shops, hungry guests need only ask for a restaurant recommendation or make reservations to eat dinner at our Inn.
Sample Breakfast Menus
Veggie Omelets
Home Fries
English Muffins
Bacon
Homemade Biscuits
Sausage Gravy
Scrambled Eggs
Grits
Sausage Patties
Scrambled Eggs
Hashbrown Casserole
Homemade Muffins
Sausage Links
Scrambled Eggs
Stuffed French Toast
Sausage Links
Chef's Choice of Pancakes
Sausage & Egg Quiche
Country Ham