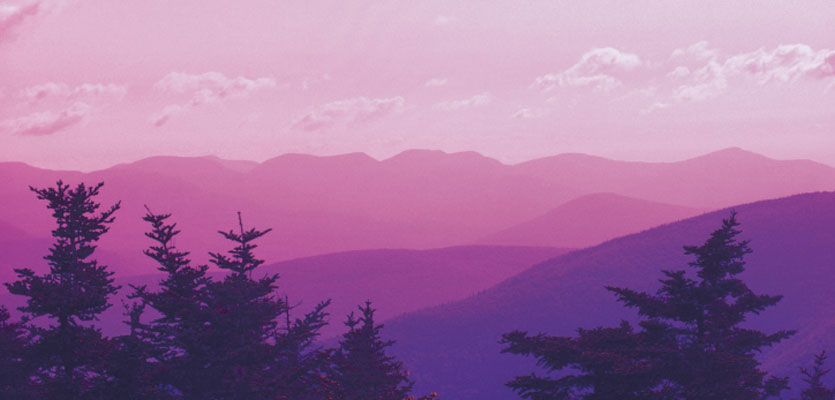 For those of us living in the Smoky Mountains, there's no place like home. Now, the secret is out. Visitors to the Smokies have realized this area is a worthwhile getaway any time of year. It doesn't get much better than hiking trails, local shops and theme parks. There is a little bit of everything here. Ziplining, horseback riding, boutiques and chain outlets, the list goes on and on.  That's why people keep coming back year after year. There are always new restaurants and attractions to try, and locals welcome visitors with Southern hospitality.
Hiking to picnic near a waterfall or sitting outside to watch fireflies dance will remind you why you came. Whether you want to fill your vacation with activities and attractions or rest in a rocking chair watching the fog rise over the mountains, the Smokies can you make your vacation exactly what you want.
We have endless fun in small town atmospheres, which you can't find anywhere else. Pigeon Forge, Gatlinburg and Sevierville have changed from a sleepy farming and logging area to vivid tourist destination. More people arrive every year, along with new shops, restaurants and attractions. One thing that never changes is the majestic view. Those mountains overlooking the towns are as spectacular as always. The Smoky Mountain National Park is filled with wildlife and history to enjoy, and you'll never  get tired of the views.
Most who visit wish they could stay longer because there is so much to enjoy. From Blue Mountain Mist Sevierville, Gatlinburg and Pigeon Forge are just a short drive. No matter how many times you visit, you'll find something to enjoy.
Gatlinburg
Nestled in the mountains of East Tennessee, Gatlinburg is referred to as the "Gateway to the Smoky Mountains." Best known for the unique shopping, Southern heritage and majestic views, Gatlinburg is dotted with experiences and opportunities to begin a yearly tradition or create memories for a lifetime.
Every year, visitors to the area enjoy strolling through downtown Gatlinburg. Originally called White Oaks Flats because of the white oak trees in the area, Gatlinburg received its final name from a settler named Radford C. Gatlin, who opened the town's second general store.
As one of the most popular honeymoon destinations in Tennessee, Gatlinburg is a fantastic backdrop for couples, families and groups to enjoy a vacation. If you're looking for a relaxing mountain getaway or exciting active vacation, you can make your Smoky Mountain trip anything you want. There are hiking trails and other invigorating outdoor activities for the active visitor, quaint shops, home-style restaurants and peaceful sights for the more serene traveller. There are no limits, so travellers can enjoy every minute.
Called "land of paradise" by early settlers, Gatlinburg has changed since the early farming days. One thing has remained the same. This town, tucked away in the Smoky Mountains, is still one of the most beautiful and scenic destinations we know.
Rated as one of the best places to stay in the area, Blue Mountain Mist is the perfect Gatlinburg bed and breakfast to stay in when planning to explore the area because of its central location.
Great Smoky Mountains National Park
While standing at the top of Clingmans Dome, the panoramic view will remind you why you chose this area as your vacation destination. The Great Smoky Mountains National Park is known for its majestic scenery and cultural history. Named for the smoky haze that often envelopes the mountain tops and rolling valleys, the Smoky Mountains are just minutes away from the Blue Mountain Mist bed and breakfast farmhouse.
The Great Smoky Mountains National Park is the most popular National Park in the country with eight to ten million visitors each year, nearly twice that of any other park. Known as the "wildflower national park," the unique diversity of plant and animal life enhances the joy of exploring these mountains. No matter which season you visit in, there are breathtaking sights to behold. Whether you enjoy a strenuous hike along one of the 150 trails in the park or auto touring around the mountain roads, the Smoky Mountains have a variety of activities to enjoy each time you visit. There are over 90 historic structures that have been preserved or rehabilitated and a variety of waterfalls to view throughout the park. Some of the most popular activities are fishing, biking, hiking, auto-touring and wildlife viewing.
With a rich history and unlimited variety of recreational activities, the Great Smoky Mountains National Park offers something for everyone. Nestled at the foot of the park, this Sevierville country inn's view of the blue mist and mountain peaks are breathtaking. You can enjoy the beauty of the Smokies yourself when you stay at the Blue Mountain Mist.
Pigeon Forge
There are endless opportunities to create memories in Pigeon Forge. Shopping, dining and entertainment around the area offer unique options for vacationers. Located between Gatlinburg and Sevierville, visitors choose Pigeon Forge because of the town's southern charm and family atmosphere.
Named after passenger pigeons that once were so numerous they darkened the sky above the Pigeon River near the Old Mill area and an iron forge built in 1817, Pigeon Forge has developed from lush farmland into one of the most popular family vacation destinations in the South.
There is never a shortage of things to do around Pigeon Forge. Exciting attractions include dinner theaters and white water rafting. Outdoor enthusiasts love the ziplines, horseback riding, kayaking and rock climbing the area offers. Taking a break from the city to visit Cade's Cove and the Great Smoky Mountain National Park are ways for families to reconnect with nature and each other. For those more interested in roller coasters and fair rides, Dollywood is one the most popular family theme parks in the nation with millions of visitors each year!
Not only do the attractions keep people visiting every year, the mountain views are a stunning backdrop. From one end of Pigeon Forge to the other, the view is breathtaking. Many visitors come back each year because Pigeon Forge boasts so many exciting attractions, museums, historic sites and shows.
Blue Mountain Mist's central location as a charming Smoky Mountain bed and breakfast allows guests to spend more time together and less time travelling to see the sights and attractions in this thriving city.
Sevierville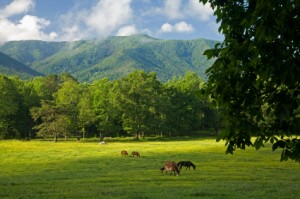 Sevierville, Tennessee borders the Great Smoky Mountain National Park and is filled with attractions, restaurants and entertainment that are special to the area and can't be found anywhere else. Founded in 1794 when a town square was established, Sevierville began with 25 acres and has grown into a thriving mountain city.
In one day, visitors to the area can splash in an indoor water park, white water raft down the Pigeon River or see a variety of seasonal events. No matter your interests, Sevierville has something everyone will enjoy.
Though the town has grown, Sevierville has never lost its Southern small town charm. Visitors to the area can find locally owned restaurants and shops where they can enjoy a home cooked meal before finding local treasures off the beaten path. Widely recognized as the shopping capital of East Tennessee, it is filled with high-end outlets and boutiques as well.
Though there is thriving city life, there are also peaceful nature activities as well. Hiking trails, educational attractions and museums are nearby. Vacationers who are interested in what's under the mountains will want to take a tour of Forbidden Caverns. Fans of Dolly Parton love seeing her hometown, and the statue of her on the courthouse lawn is a great photo opportunity.
Blue Mountain Mist is a peaceful mountain getaway just minutes from the town's bustling bustling activity. By staying at this Sevierville country inn, guests can enjoy their peaceful stay just minutes from all the activity and sights of the area.