Temptation Station is an accurate name for the decadent desserts and tasty drinks that are prepared at the Blue Mountain Mist bed and breakfast in Sevierville. Delicious homemade pies, cakes and brownies are prepared by the those who works at the inn. Each member of the Blue Mountain Mist family contributes to the delicious treats created here.Everyone has a favorite dessert, so each person creates their most popular and tasty dishes. Whether a family recipe handed down for generations or a yummy new experiment, the treats here are unforgettable.
Cookies, brownies, pies and bars, we can make them all. This area also has popcorn and drinks and any other treat you can think of. There are drinks as well, from iced sweet and unsweetened tea to sodas and coffee, decaf and regular. Want a late night snack? Feel free to help yourself. That's why many guests name the Temptation Station as one of their favorite reasons to stay at the Blue Mountain Mist. This is just another way the bed and breakfast make guests feel like part of the family. There are always treats ready for visitors who want an evening snack or a late night treat.
If you're looking for places to eat in Gatlinburg, Sevierville and Pigeon Forge, the Blue Mountain Mist has delicious food including desserts in the Temptation Station that is better than anywhere else in the area. Plan a trip to the Smokies and the Blue Mountain Mist, and taste for yourself why the Temptation Station's name fits so well.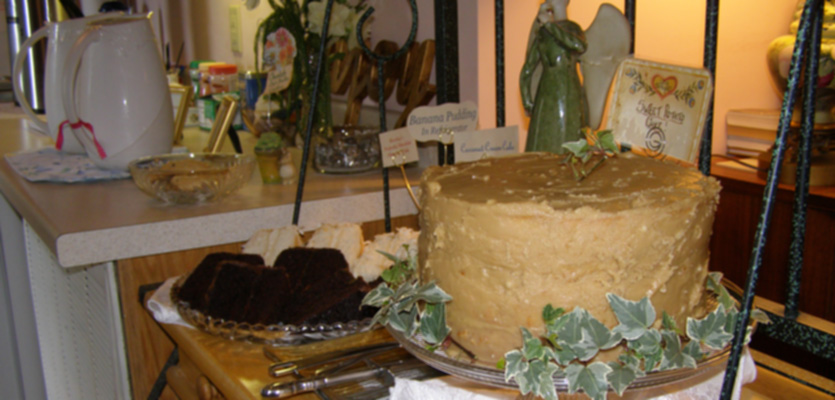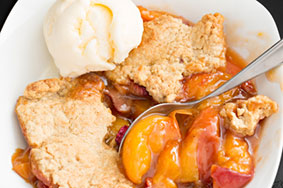 Y
ou will see how this part of your stay acquired its name "Temptation Station". From delicious homemade cakes, pies, cookie bars, brownies and mouthwatering cookies, this station is sure to leave you in awe! There are freshly brewed sweet and un-sweet tea, sodas, freshly brewed decaf and regular coffee, hot chocolate, popcorn and endless goodies here at this area. Everyone that works at the inn contributes a little something to "Temptation Station", whether it be a recipe handed down from generations or a baking hand in preparing the wonderful treats.
Example of a few of the items you may get during your stay:
Red Velvet Cake
Italian Cream Cake
Chocolate-Chocolate cake
Pumpkin Pie Cake
Oatmeal Cake
Sunshine Cake
Coconut Cake
Fruit Cobbler
Lemon Bars
Brownies
Chocolate Chip Bars
Chocolate Chip Cookies
Oatmeal Raisin Cookies