Blue Mountain Mist is a country bed and breakfast that sits on a 60-acre farm, with unparalleled views of the beautiful Great Smoky Mountains. The natural surroundings of ponds, flower gardens and the mountains make Blue Mountain Mist a popular bed and breakfast in Sevierville. Featuring a unique southern charm and elegance, visitors have reviewed Blue Mountain Mist as a top bed and breakfast in the Smoky Mountains.
TripAdvisor, a popular travel review site, allows vacationers to leave opinions after visiting various travel destinations
around the world. After looking at the reviews and ratings from guests of Blue Mountain Mist, TripAdvisor awarded us with a Certificate of Excellence for 2013.
TripAdvisor awards Certificates of Excellence based on a number of factors, including the number of guest reviews and the rating of those reviews. The business must hold at least a rating of 4 out of 5 in order to qualify for the award.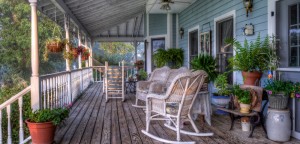 Blue Mountain Mist invites you to stay at our bed and breakfast in Sevierville for a relaxing retreat in the Smoky Mountains. In addition to the beautiful inn and cottages, guests can enjoy a delicious meal in our dining area or a soothing massage at Blue Mountain Mist Massage. We enjoy hosting large groups for weddings and events, and we have experienced planners who can help you create a perfect wedding day or family event.
Blue Mountain Mist is located in the heart of the Smoky Mountains, away from the hustle and bustle of town, but close enough to only be a couple of minutes from all of the fun. Take a look at our great specials for the best deal on your stay at our inn. Give us a call at (800) 497-2335 to speak with our vacation specialists about your stay in the Smoky Mountains.