Imagine walking in to a bed and breakfast, complete with bright holiday touches and a special Christmas glow. Well, you can do just that when you stay with us at Blue Mountain Mist during the Christmas season. Here's what you'll love about staying with us this holiday season:
1. Holiday Decor at the Inn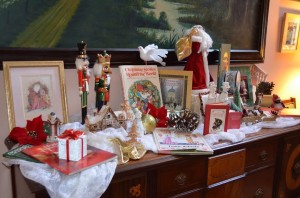 Featuring stunning shades of red and green throughout our Sevierville bed and breakfast, Blue Mountain Mist is the perfect place for celebrating the season. As you wander through the Inn, you will find nativities, figurines and gorgeous greenery that accents the beauty of the Inn. In the main area, families will notice magical winter decorations, complete with Christmas story books and holiday centerpieces. The elaborate decor lines the top of the fireplace, reassuring families of the true meaning of the season.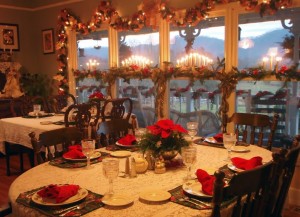 2. Warm and Inviting Atmosphere
At Blue Mountain Mist, we try to keep the atmosphere as relaxing and inviting a possible. To stay warm during your stay, you can sit beside the fireplace and catch up on a good book or sip on a warm cup of hot cocoa. When time rolls around for a tasty meal, enjoy breakfast, lunch or dinner in our beautiful dining area, also decorated for the holiday! The popular breakfast menu features Southern style biscuits and gravy, sausage and egg quiche, pancakes, stuffed omelets and so much more. When you dine with us, you won't want to eat anywhere else!
3. Guaranteed Relaxation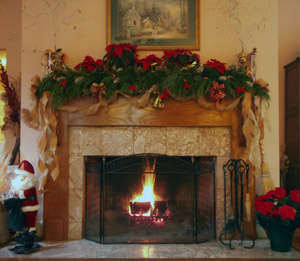 At Blue Mountain Mist, we want each of our guests to be as comfortable as possible during their stay. When you stay at Blue Mountain Mist, you can also take advantage of our spa! Blue Mountain Mist Massage & Spa offers soothing massages and skin renewing treatments. For the ultimate relaxation, take off the holiday stress by treating you and your loved one to a romantic side-by-side couples massage.
To make your stay even more special, you can take a look at the great deals and awesome packages available on the Blue Mountain Mist website. To book your stay at our Sevierville bed and breakfast, you can give us a call at (800) 497-2335 to speak with our friendly staff. We look forward to seeing you in the Smoky Mountains this holiday season!