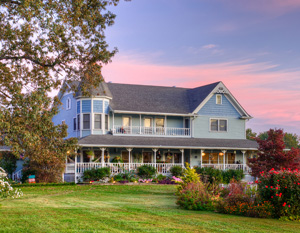 Smoky Mountain Bed and Breakfast
If you have every had the chance to stay at our quaint bed and breakfast, then you already know that at Blue Mountain Mist we offer one of the most relaxing lodging options in the Smoky Mountains. However, for those of you who have not yet had the chance to visit us, we have put together a list of a few hidden benefits that staying in a Smoky Mountains bed and breakfast can bring vacationers for you to consider when planning your next trip to the area.
Home-cooked Dinner
Sure when you think of a Smoky Mountain bed and breakfast your mind (or should we say stomach) automatically starts to think about what kind of breakfast is served. However, many people don't know that at Blue Mountain Mist, we also offer a delicious freshly-prepared dinner at our Smoky Mountain bed and breakfast every Friday and Saturday for our guests. In addition to a home-cooked meal, we also offer a variety of decadent desserts that will please any sweet tooth.
Stunning Views
At Blue Mountain Mist, we are very fortunate to have a peaceful location that is just minutes away from all the fun and exciting things to do in Pigeon Forge and Gatlinburg, but it feels so secluded. From our property, guests can see breathtaking views of the scenic Smoky Mountains all around them. This is a major benefit to choosing to stay in a Smoky Mountain bed and breakfast instead of a different lodging accommodation. Most of the time when you stay somewhere on vacation you are next to a busy road with a lot of noise and traffic just outside your window, but at Blue Mountain Mist all that fades away into a peaceful mountain escape.
Meet Fellow Travelers
For some reason it is almost as if there is an unspoken rule when you stay in a hotel that you aren't supposed to interact with other guests. This is especially true in hotels or rental locations that have a large capacity they can fill. By choosing to stay at a Smoky Mountain bed and breakfast, vacationers are choosing to stay in a more intimate setting where it is easier to talk to and get to know fellow travelers to the area. The benefit to this is you can share your favorite area locations, places to eat or things to do. Who knows, maybe the person you talk to has a favorite place you haven't been to before.
More Space
What's great about staying in a Smoky Mountain bed and breakfast is that you are not confined to just your room while you are here. At Blue Mountain Mist we encourage all of our guests to relax in our common area, tour our gardens, or even just enjoy a peaceful stroll around the property. Not only is this a great way to stretch your legs after a long day in the car, but it is also the perfect way to take in some of those majestic views we mentioned earlier.
Ready to discover some of your own hidden Smoky Mountain bed and breakfast benefits? Reserve your next stay with Blue Mountain Mist today by giving us a call at (877) 607-5763.