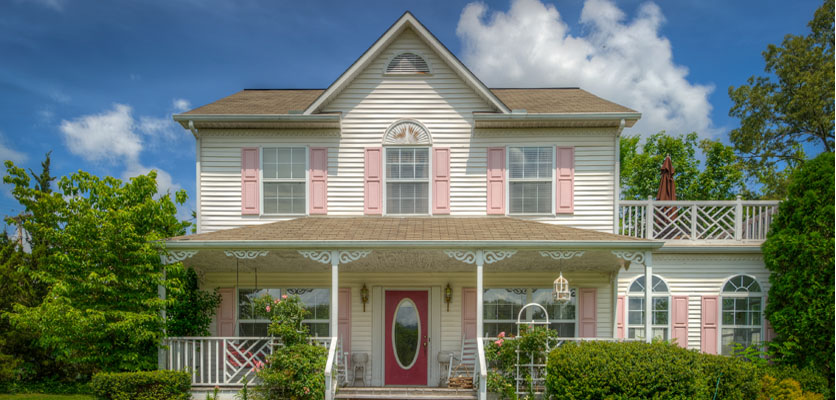 Tucked away at the foot of the Smoky Mountains is a Victorian farmhouse with wrap around porches and clapboard siding called Bellarose. From the rocking chairs framing the front door, this historic estate welcomes guests to begin the day by watching the sun rise over the mountains with a cup of coffee. After coffee, gathering around the table for a meal and conversation is an experience families won't soon forget.
Activities in and around this vacation home build lifelong memories. The large, flat lawn brings back memories of the old South, when families spent time outdoors, playing and laughing until the sun set beyond the peaks. At night, stargazing and roasting marshmallows stir childhood memories.
Rolling hills and valleys frame the home, and the 60 acre Blue Mountain Mist estate is a place to explore meadows, ponds and other nooks and private spots. Inside and out, this sprawling estate is a historic beauty with modern touches. Though from the outside it seems to be a step back in time, everything inside is modern and comfortable for a long stay.
Those who stay here enjoy exploring the site, home and area. They can easily explore the area because the Blue Mountain Mist country inn and cottage in Sevierville is centrally located to popular attractions, entertainment and shops in the area. Though it seems to be nestled deep into the country, it is just a few minutes to popular attractions and entertainment.
For those looking for places to stay in Pigeon Forge and Sevierville, the Blue Mountain Mist welcomes all who visit to make the Bellarose a home away from home until they return again.
If you want a quiet and cozy place to stay that is convenient to the area, this country inn and cottage in Sevierville is exactly what you've been looking for. Nothing has been left undone to give you an enjoyable and relaxing visit. Those who stay describe it as warm and inviting, and we invite you to come and see for yourself.
Bella Rose features historic architecture with modern amenities. Creole pink shutters, antebellum white siding and arched windows wind around the house to allow natural light to flood the comfortable interior. Special care has been taken to ensure this beautiful home is perfectly set for a carefree and memorable stay.
The wrap around porch and spacious lawn draw you inside, where there are modern amenities including cable TV and wireless high-speed internet. The home is furnished, so, whether a honeymoon home or family retreat, packing doesn't require anything other than the essentials. This three bedroom and three bathroom estate features a full kitchen and dining area for family meals and gatherings. A private washer and dryer are also on site, which is a great convenience on longer trips. There is also a gas fireplace in the home, the perfect area for sipping hot chocolate or curling up with a loved one. In the spring, you can raise the windows to let the fresh mountain air inside.
Outside, a second level outdoor patio setting overlooks the mountains. A hot tub sits in a fenced in area, so guests can enjoy the views without losing privacy. The entire 60 acre estate is well managed and a perfect place for time together.
3 Queen beds
3 Private baths
Cable TV
Hair Dryer
300+ Thread-Count Sheets
Wi-Fi
Private Heat & Air
Kitchen
Washer & Dyer
Hot Tub
As part of our Southern heritage, we want to make you feel feel like family while you stay with us. The Bellarose offers much more as than the average places to stay in Pigeon Forge and Sevierville. The wrap around porch is inviting and one of our best features. The home is furnished with modern amenities so your family can enjoy a vacation in a piece of history without losing everyday comforts.
Our cozy beds are an inviting place to rest, and so are the plush couches and chairs that are placed throughout the home. Three Queen beds and three private baths are in the home, so everyone has their own space. Throughout the house, there is cable TV and high-speed internet. Also in the home are a washer and dryer, which are hard to find in vacation rentals! Private heating and air are also amenities guests love because they can control the temperature in the heat of summer and the cold of winter. Bellarose also has a beautiful kitchen that is fully equipped to cook a meal, from dishes to cookware.
This Smoky Mountain vacation rental has a variety of outdoor amenities. There is a private hot tub to soak in and enjoy the mountain views. A fire pit is also on site to roast marshmallows while warming up around a toasty fire. There is a picnic table to enjoy outdoor meals, and the flat lawn and mountains are a beautiful setting and backdrop for a picnic.
Another amenity people can't stop bragging about is the location. Though it seems to be hidden away from the city, Bellarose is near Dollywood, Five Oaks Tanger Mall and other attractions. As quiet and peaceful as Blue Mountain Mist and Bellarose are, guests are always surprised by how close they are to all the action. If you're ready to enjoy these amenities and much more, we welcome you to begin planning your trip to Bellarose at Blue Mountain Mist.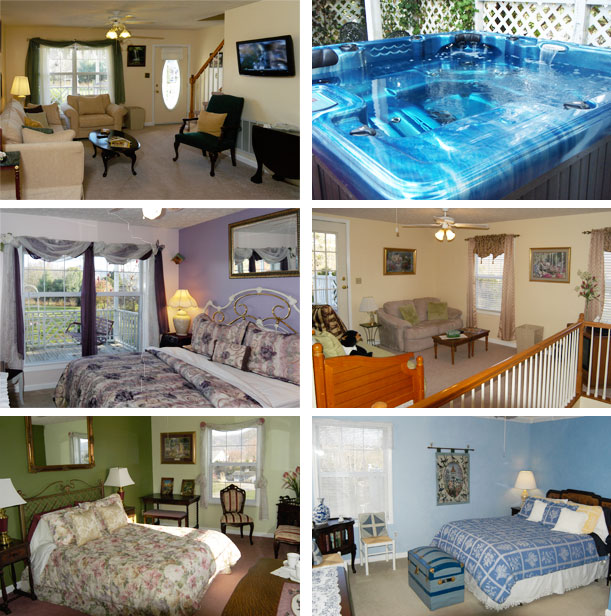 The Bella Rose is a treasure nestled into the mountains of East Tennessee. Once you see it in person, you'll have finally found an oasis from everyday life. The relaxing colors and furnishings in this Smoky Mountain vacation rental make guests feel right at home. From trunks at the foot of the bed to writing desks in the corners, this home has modern comforts with a touch of the past.
Step into a truly memorable experience the moment you enter our grounds. By the time you leave, your mountain vacation will be unforgettable.  Everyone who stays here leaves feeling comfortable and relaxed. This well managed farmhouse sits on the grounds of the Blue Mountain Mist bed and breakfast in Sevierville is a truly relaxing mountain retreat. Each window faces a spectacular view, and every room is decorated and furnished with country elegance. No matter where a guest steps inside this vacation home, it is comfortable and cozy.
Blue Mountain Mist country inn and cottage in Sevierville is a beautiful estate. The mature landscaping around the Bella Rose features bright and ever changing colors through the seasons.This breathtaking and conveniently located rental looks out on the Smoky Mountains including meadows and ponds. From inside and throughout the grounds, this vacation home seems to be in a peaceful setting, hundreds of miles from the hustle and bustle of the city. In reality, this quiet hideaway gives you a quiet stay and a great location, only a few minutes away from everything the Smoky Mountains has to offer.
For reservation info for the Bellarose Guest House, please call us at 1-800-497-2335.