Rainbow Falls Deluxe Room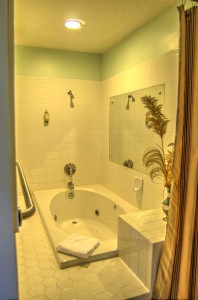 A stained glass window depicting the Rainbow Falls is the central focus of this room. The handcrafted and custom-designed window separates the bed from the large Jacuzzi tub, making it a very cozy enclosure for two. Rainbow Falls room has a comfortable queen size bed that is triple sheeted and covered in lots of blankets and an arrangement of big and little decorative pillows. It does have its own private bathroom but it is a bit different. The bathroom has the sink/vanity and toilet but the shower comes from above the Jacuzzi tub. This deluxe room is very romantic making it perfect for a honeymoon couple. With the rich brown and blue/green colors and the huge fireplace, this most unique room also enjoys a view of the Smokies and opens onto a semiprivate balcony.
About Rainbow Falls Trail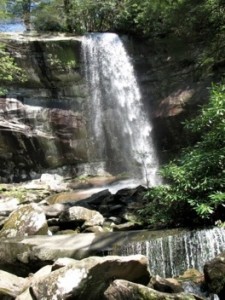 Rainbow Falls is considered one of the most beautiful falls in the Smoky Mountains National Park. If conditions are just right, a rainbow can be seen over the falls.  The trail is one of several that will take you to the top of Mt. LeConte and is also the oldest or earliest path to LeConte. The trail can be challenging, but also offers an intermediate reward in that it affords the hiker a rest at the beautiful Rainbow Falls. Rhododendron, sand myrtle, and mountain laurel blanket the trail offering springtime visitors a beautiful carpeting of purples, whites, and blends of pink.  It is a great trail to take a packed lunch and enjoy the mountain beauty while hearing the wonderful sounds on the falls.
Amenities
Queen bed
Outside Balcony
Private bath
Fireplace
Jacuzzi Tub
Cable TV
Hair Dryer
300+ Thread-Count Sheets
Wi-Fi
Private Heat & Air